Process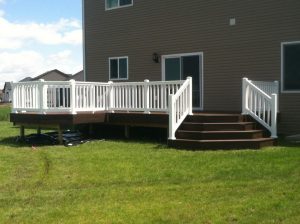 We aren't just building you a deck; we are creating a space you can use to enjoy the outdoors. With every deck, we take into account your lifestyle. How often will you use it? How do you like to entertain? Do you have specific furniture you want to place on it? The design and functionality are important to the satisfaction and enjoyment of your deck.
While we truly prefer the natural beauty and integrity of wood products, we will build your deck out of the material of your choice. We do our best to inform you of what to expect from your deck and are honest about the products we use.
At FM Home & Patio, we take care of you from the initial building permit and footings, down to the railings and stairs. If you have an old deck, we can even take care of the removal for you.
We can take care of it all – and in most cases – after only a few short days, you will be able to sit back and relax on your new deck!
Cedar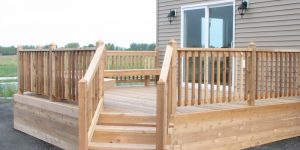 Cedar, specifically Western Red Cedar, is lumber that has a natural resistance to moisture, decay, and insects, making it the premier choice for either interior or exterior home use. Its fibers in the heartwood contain natural preservatives that increase with age and make the outer regions of heartwood the most durable.
Cedar wood has twice the stability of most commonly available softwoods. The stability is a result of its low density and shrinkage factors. It lies flat, stays straight, and holds fastenings tightly, making it very easy to work with. It also exceeds safety classification for flame spread and smoke development.
Cedar lumber is naturally durable for all weather and provides a firm base for many types of paints and stains. When finished properly, it can last for decades even in harsh environments.
Low Maintenance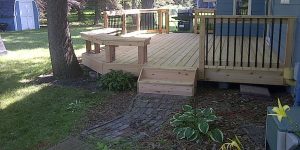 Low maintenance or maintenance free decks offer many choices of colors and textures but are often not really low maintenance, as they can scratch, stain, or fade easily.
Although throughout the past few years this material has improved, the cost is still a great factor. Generally, low maintenance decking material will cost anywhere from 35% to 90% more than a wood product, and will not hold its value in a resale. If you plan to live in your home for longer than 10 years, a low maintenance deck may be the right option for you.